Shire lifeguard is the nation's best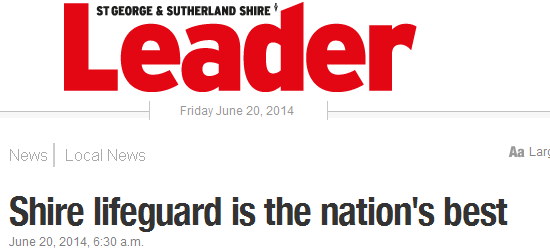 SUTHERLAND Shire residents have always known their lifeguards are among Australia's best and now it is official. Sutherland Shire Council lifeguard Cameron Pyett won the Waterman of the Year award at the 2014 Australian Professional Ocean Lifeguard (APOLA) Conference at Diggers Beach, Coffs Harbour, recently. Cameron and fellow lifeguard Steve Winner were also selected in the NSW team for the OPSM Inter-state Challenge, which they also won. Sutherland Shire mayor Steve Simpson said it was the combination of these results and his performance at the conference which secured Cameron the title.
"The awards were based on communication and rescue skills, ocean knowledge and fitness; all key factors in being a professional ocean lifeguard," Cr Simpson said."Cameron and Steve also achieved excellent individual results that demonstrated their skills in the water and that's why they were recognised in this way."The pair said interacting with fellow lifeguards from across Australia was a great experience and allowed them to share information about safety equipment, new technology, air and sea forecasting.In the individual competitions at the event Cameron got first place in the open board rescue, second place in the open surf swim and third in the open 1-kilometre beach run.Steve came first in the open 1-kilometre beach run.